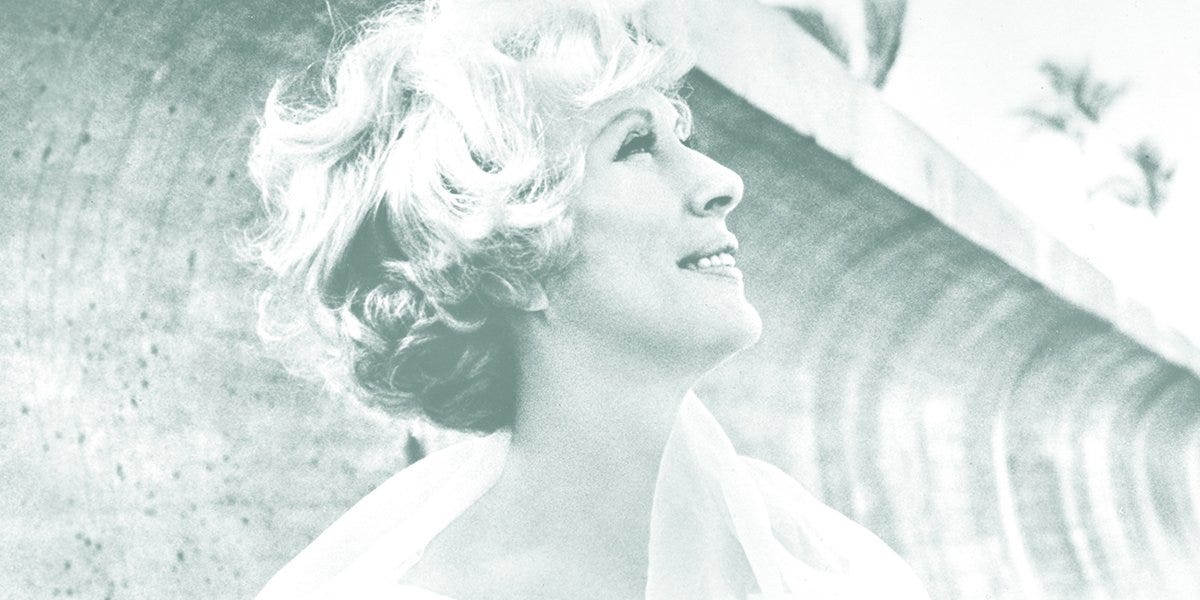 Estée Lauder: The Woman Behind the Brand
Estée Lauder's story could have started on the stage. Before her head was filled with visions of making women beautiful, the woman who would revolutionize the cosmetics industry wanted to be an actress. But, the business of beauty pumped through her veins.
Explore the stories below to enter Estée's world.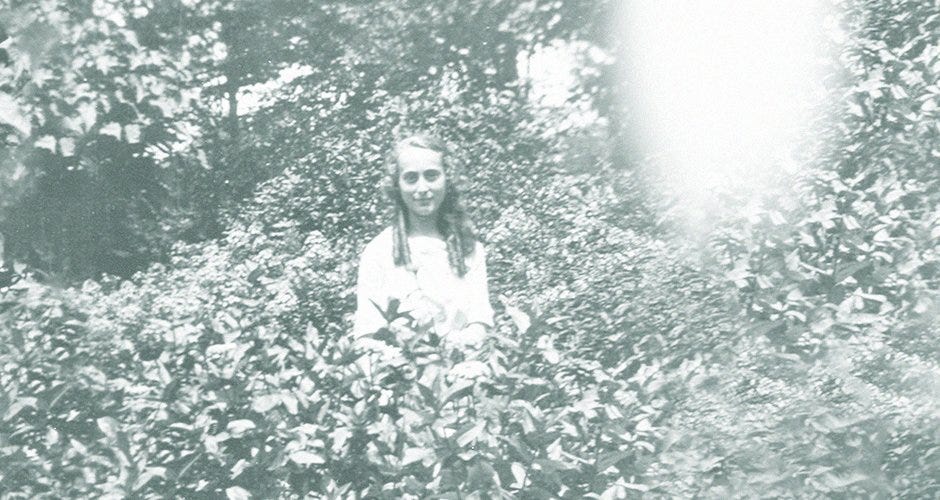 CHAPTER 1
Born for Beauty
The niece of a Hungarian chemist, Estée was trained in the art of face creams at an early age.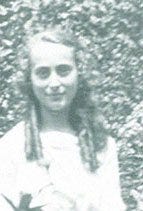 What's In A Name
Josephine Esther Mentzer was born in New York City. Her parents, Rose Schotz, a Hungarian beauty, and Max Mentzer, a Czechoslovakian businessman who carried a cane and gloves on Sunday, called her Esty, which was changed to Estée when she enrolled in school. The name stuck, but one early detail was never officially pinned down: her birth date. "You ask my age? I tell you it simply doesn't matter," she'd famously say to dodge the question. "Glow," after all—not a number—was the real essence of beauty, she believed.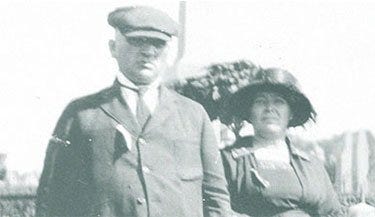 Good Genes
"The first beauty I ever recognized was my mother," said Estée. Some of her earliest memories were of her mother's grooming ritual, which revolved around applying rich creams to her face and hands to keep her skin soft and smooth. "Hands [are] as telling as any written pedigree," Rose would tell her impressionable daughter.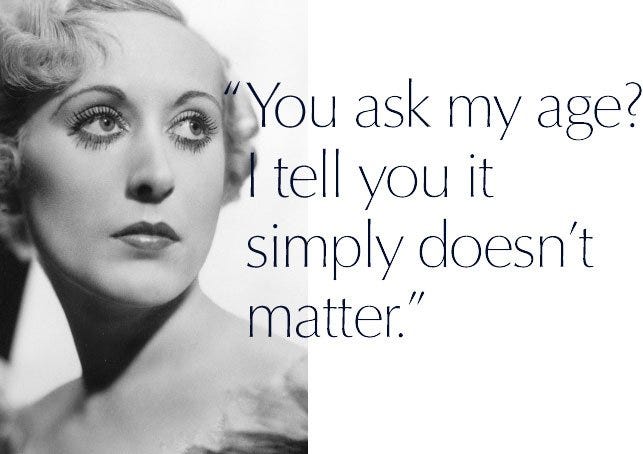 Stage Gem
Estée toyed with becoming an actress, as she believed that "actresses were the epitome of beauty." She even appeared on stage at New York's Cherry Lane Theater a few years after she had her first son, Leonard, who would sit in the back of the theater and watch as she rehearsed. But in the end, acting didn't satisfy her the way whipping up skincare solutions did. "I wanted to see my name in lights, but I was willing to settle for my name on a jar."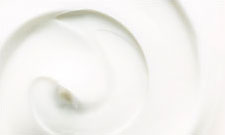 Mixologist
While her father owned a hardware store where Estée would arrange window displays, she was more interested in taking after her uncle John Schotz, a chemist. He had taught her to cleanse her skin with oils rather than harsh soaps, and to mix up batches of his unique, all-around skin cream. "It was a preciously velvety cream, this potion, one that magically made you sweetly scented, made your face feel like spun silk, made any passing imperfections be gone by evening," Estée recalled, and she soon dubbed it the Super-Rich All Purpose Creme. It was her first glimpse at something that provided "the power to create beauty."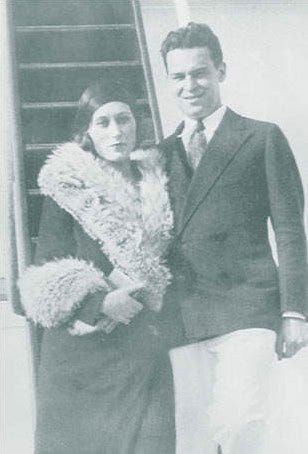 Young Love
During a summer spent on Mohegan Lake in New York, Estée met "her first beau," Joseph Lauter. Later, Joe changed his surname to Lauder, correcting a misspelling that had occurred when his father emigrated from Austria to the United States. The pair married in 1930 and soon moved to Manhattan. For her wedding, Estée carried pure white calla lilies and wore a satin gown with what she called "the world's longest train." And for the first time in her life—but certainly not the last—she applied a touch of lipstick.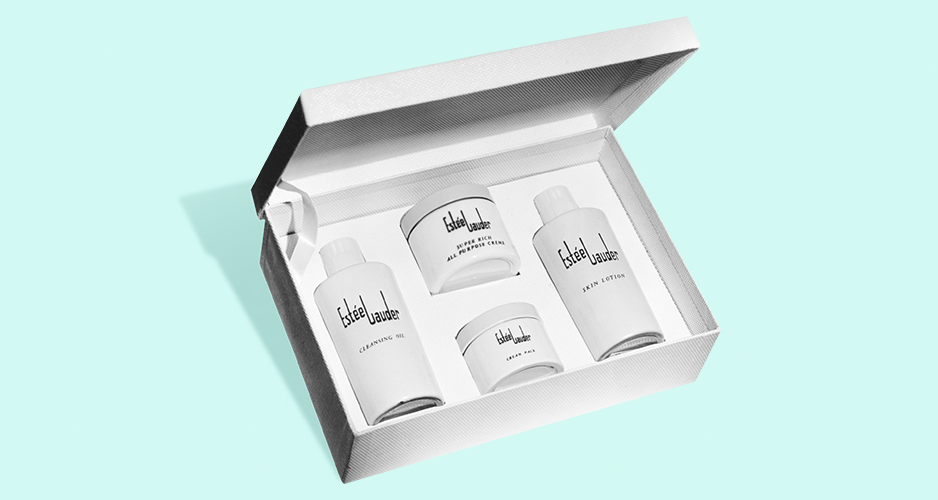 CHAPTER 2
The Start of Something Beautiful
Estée built her company with the perfect mix of know-how, dedication, persistence, passion, family commitment–and a lot of free samples.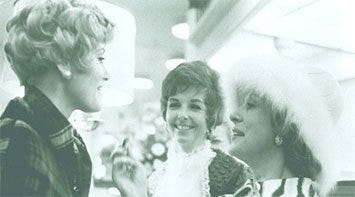 Tell-a-Woman
In 1946 Estée officially launched her namesake line with four hardworking products—The Cleansing Oil, The Creme Pack, her uncle's Super-Rich All Purpose Creme, and The Skin Lotion. She was her own publicist, often showing up to beauty parlors around New York City to perform makeovers while women sat under the hairdryers. Applying a grassroots marketing approach—"telephone, telegraph, tell-a-woman," as she'd explain it—Estée expanded her customer base to other salons and hotels around the city.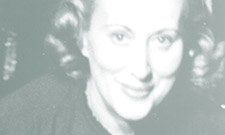 A Bright Idea
As a young mother in the city, Estée regularly visited the House of Ash Blondes, a beauty salon on West 72nd Street to get her haircolor "refreshed." One day, when the owner inquired how she kept her skin in such good shape, Estée didn't miss a beat. "It would turn out to be a great moment for me," she'd later say, of the conversation that sparked her idea to market her family's formulas. A month later, she returned to the beauty parlor with an assortment of homemade potions in tow and the owner was so impressed with the results, she hired Estée to run the atelier's first beauty concession. Estée was in business.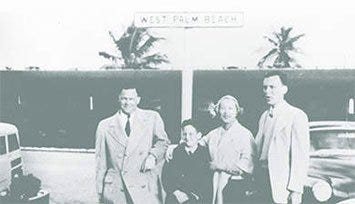 Family Ties
Early success put a strain on Estée and Joe's marriage. The couple divorced in 1939, but four years later, when Leonard fell ill with the mumps, the couple came together to care for him—and never parted. "We were never to be separate for longer than a few days ever again," said Estée. They soon remarried and had another son, Ronald, in 1944. Estée Lauder the brand officially became the family business. (From left to right: Joseph, Ronald, Estée and Leonard Lauder.)

True Blue
As her orders increased, Estée needed packaging that was as elegant as she was. She ultimately settled on pale blue containers, a color that "would look wonderful in any bathroom," she determined.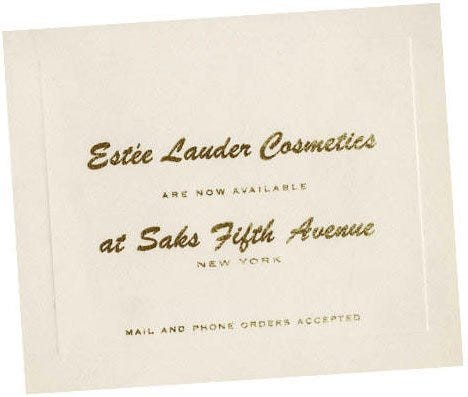 By Invitation Only
After Estée's "millionth" request, Robert Fisk, the cosmetics buyer at Saks Fifth Avenue, finally agreed to place his first order of her product—$800 worth, to be exact—in 1946.
To announce her arrival at the upscale department store, Estée sent out elegant white cards with gold lettering to inform the store's preferred-customer list that she would be offering a free cream-based powder with every purchase. Within two days, the entire stock was sold out—and the industry's "gift with purchase" marketing concept was born.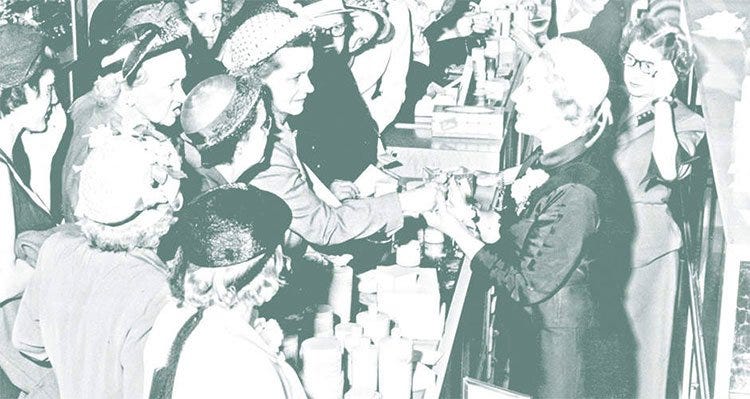 CHAPTER 3
Beauty Breakthroughs
"Success depends on daring to act on dreams," according to Estée, who turned a homespun cream into a global cosmetics empire.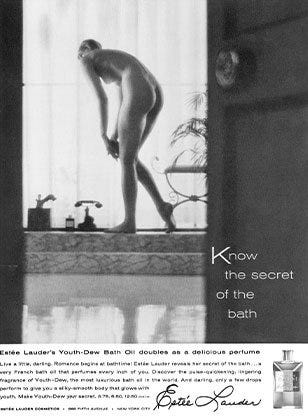 Youth-Dew
Youth Dew wasn't a perfume, but a bath oil that doubled as a fragrance- just the type of thing a woman could buy for herself without "giving tiresome hints to her husband," and could wear without waiting for a special occasion.
"I never knew I was a 'nose,'" Estée would say humbly, but in 1953 she discovered a blend of rose, jasmine, vetiver and patchouli that would bring her olfactory fame. She called it Youth-Dew. It wasn't a perfume, but a bath oil that doubled as a fragrance—just the type of thing a woman could buy for herself without "giving tiresome hints to her husband," and could wear without waiting for a special occasion.
It took the industry by storm, as did the advertisement, which depicted the risqué, though tastefully blurred, profile of a nude woman. Estée would later sell Youth-Dew by the gallon to fans like Gloria Swanson, Dolores Del Rio, and Joan Crawford, who claimed the intoxicating aroma helped her snare her fourth husband.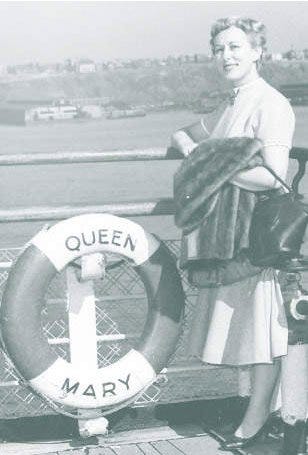 Globe Trotter
Convinced that European women were as "face-conscious" as they were "fashion-conscious," Estée launched her brand at Harrods in London in 1960, after years of charming its buyer. Next came Galeries Lafayette in Paris, where Estée famously spilled Youth-Dew on the floor, prompting customers to ask about the intoxicating aroma, and securing her a spot at the counters. "They later said I did it on purpose. I'll never tell," she mused.
The brand would expand into the rapidly emerging markets of Moscow in 1981, and Shanghai in 1993. Today, Estée Lauder is sold in over 150 countries across the globe.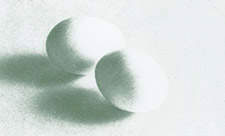 A Good Egg
Estée found inspiration for her next skincare innovation in her mother's beauty regimen. Recalling how she used whole beaten eggs on her face as a mask, Estée made the egg the star ingredient in her Estoderme Youth-Dew Creme. To prove its restorative powers, Estée dabbed it on Carmel Snow, Harper's Bazaar's legendary—and legendarily intimidating—editor in chief. "Miss Snow did look astonished," Estée admitted, but she was so impressed with the results that she ran a winning review in the magazine in 1951, skyrocketing the cream to success.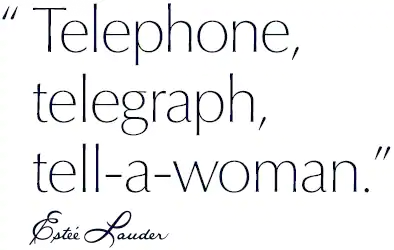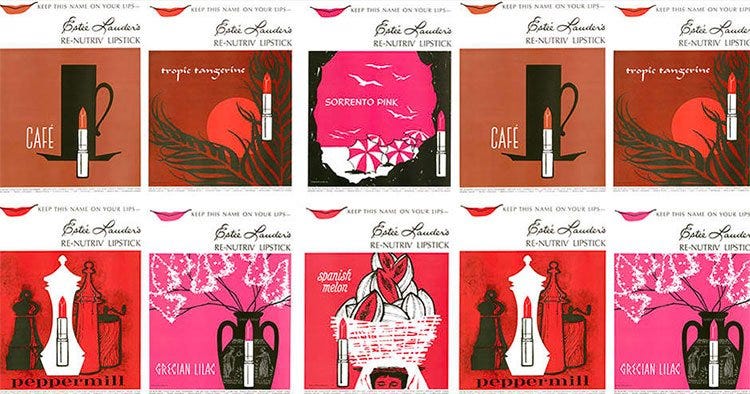 Read Her Lips
As her empire grew to include makeup, Estée realized that the success of her lipsticks often came down to their names. "Honest, lucid, graphic descriptions—that's what I was after," she'd explain. Early hits included Duchess Crimson, a clear, strong red; All Day Rose, a soft pink that was ideal for working women; and Dancing Red, a "go-out-in-the-evening" shade.
Each bullet was packaged in a golden metal case, a feminine design that became an instant icon of elegance and sophistication. In fact, this striking case, now with an updated fluted shape, is still used today in our Signature lipstick collection.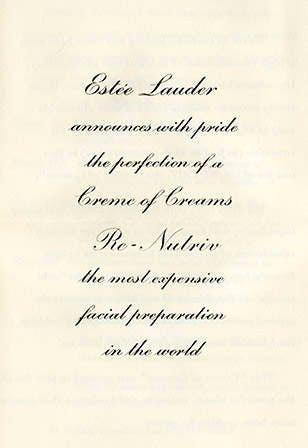 Face Value
In 1956, Estée launched her most luxurious cream yet, Re-Nutriv. At $115 per jar—equivalent to approximately $1,000 in today's money—it was pricey, but she was quick to reason that is was worth every penny. "Why do you spend so much for a Picasso? The linen under his painting costs $2.75, each jar of paint he used was perhaps $1.75. Why, then, do you pay a small fortune for a small picture? You're paying for creativity…for experience…and something that works for you."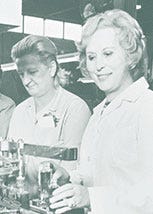 Lab Partners
To ensure every Estée Lauder creation would always perform up to her high standards, Estée opened her first research and development laboratory in Melville, New York in 1967. Together with their team of scientists, Estée and Joe "mixed, tested and discovered" every ingredient that would star in their products. As the business grew, their roles became further refined: "Joe ran the factory and dealt with numbers and production. I ran the sales force," Estée would explain.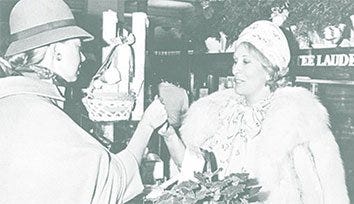 Three Minute Beauty
Estée believed "3 minutes is all beauty should ever take." She created quick routines for makeup and skincare, which she eagerly demonstrated on women—at every store where an Estée Lauder counter opened, while riding on a train or an elevator, or simply walking down the street. She loved nothing more than transforming a woman's look with her personal touch, and doling out bits of advice along the way.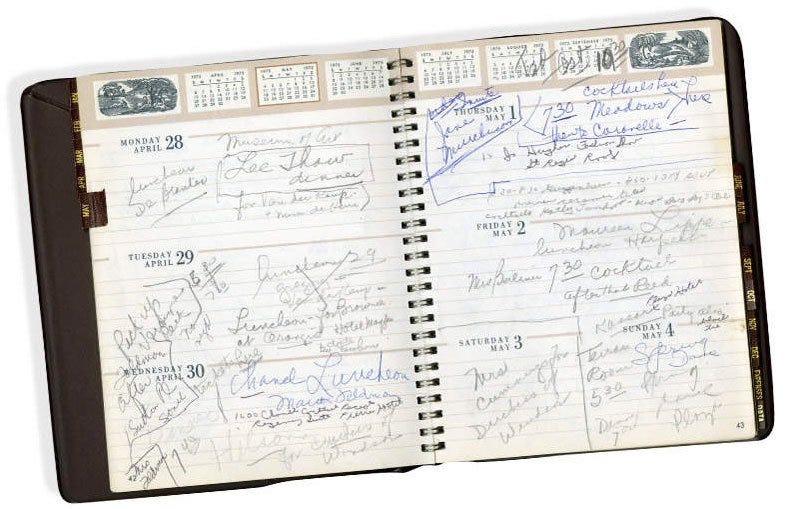 Family First
Estée worked non-stop, sometimes even seven days a week, and had a social calendar that was equally demanding. Family, however, was always her priority. "She loved to cook, and she always cooked with her hat on, a purse, and blush," her son Ronald recalls. And while society luncheons and dinners abounded, Estée always made sure to remember birthdays, and to hand out her favorite chocolate-covered marshmallows as little gifts to family and friends.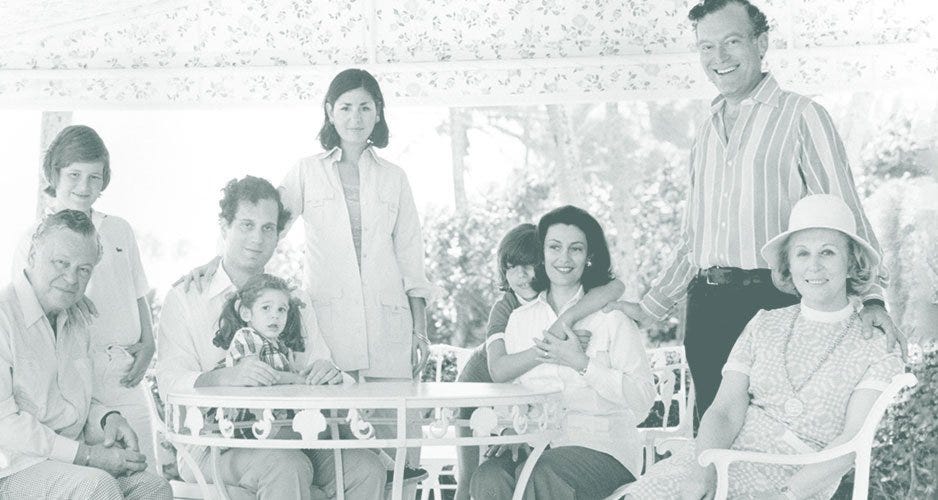 CHAPTER 4
Going the Distance
Estée Lauder began expanding internationally in 1960 and is now sold in over 150 countries across the globe.
"Only a Lauder knows"
To prevent spies from copying her fragrance formulas, Estée came up with an elaborate coding system for testing vials that was only known by "me, Joe and our sons."
Perfume batches were produced only 95% complete, and then a member of the Lauder family would go in person to the factory before the fragrance was shipped out to retailers, "to supply the missing 'secret 5%'–the ingredient without which the fragrance can never be complete," Estée would explain. "The final ingredient is never known to our factories, essence suppliers, anyone," she noted. "Only a Lauder knows."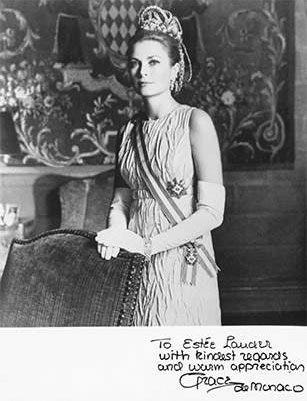 A Most Precious and Private Scent
In her office, Estée kept a rare collection of oils, extracts and essences from every corner of the world. She used these raw notes to mix up a signature bespoke blend that she would dab on often—especially when entertaining friends like Nancy Reagan, the Duchess of Windsor, and former Vogue editor Diana Vreeland.
In 1973, Estée bottled the aroma and called it Private Collection. It was a scent she could recognize anywhere. When attending a masked ball with her close friend, Princess Grace of Monaco, she reportedly leaned over and said, "I know it's you Grace. I could mistake a pair of royal eyes but never my own perfume."
An extraordinary collection of scents created by the brand would follow, including Aliage, Estée, Cinnabar, White Linen, Beautiful, Pleasures, Beyond Paradise, Sensuous, Sensuous Nude, and, most recently, Modern Muse. For all of Estée's successes as one of the century's best noses, The American Society of Perfumers awarded her its first Living Legend award in 1994.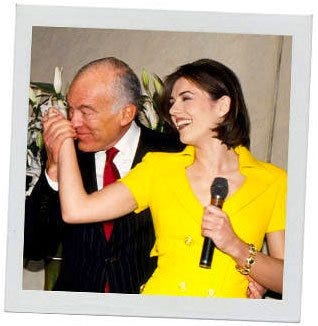 Model Citizens
When it came to choosing the "face" of her brand, Estée made the bold decision to use just one model, Karen Graham. "We'd be taking a gamble. The public might tire of one face. I thought not," she reasoned. She was right: Graham modeled for the company from 1970 to 1985 (briefly returning in 1998), helping introduce the brand to millions of women around the world.
When it came time to welcome a new generation of brand faces, Estée stuck to a specific guideline: "My women are elegant achievers…strong and smart." Models Willow Bay and Paulina Porizkova would follow, as well as actresses such as Elizabeth Hurley and Gwyneth Paltrow, and fashion runway stars Liya Kebede, Carolyn Murphy, Joan Smalls, Liu Wen, Hilary Rhoda, Constance Jablonski and Arizona Muse.
Early ads were shot exclusively by lensman Victor Skrebniski, who published the book "Five Beautiful Women" in homage to the Estée Lauder faces that had long served as his muses. In recent years, top photographers like Steven Meisel, Mario Testino, Bruce Weber, Inez and Vinoodh, Mario Sorrenti and Craig McDean have worked on campaigns for the brand.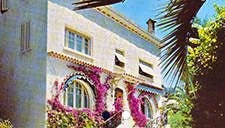 Where the Heart is
"My homes, in every sense of the word then, are settings of inspiration." Estée said. Which prompted her to keep homes in some of her favorite places, including Long Island, New York City, London, Palm Beach and Cap Ferrat.
Each residence had "a sense of airiness, lightness and brightness" and often sparked her "creative juices," she'd say. The scented gardens around her French Riviera home in Cap Ferrat piqued her senses while working on the Beautiful fragrance, for example, and the palm-leaf shade of her London sitting room was top of mind when she dreamed up the green-based perfume, Aliage.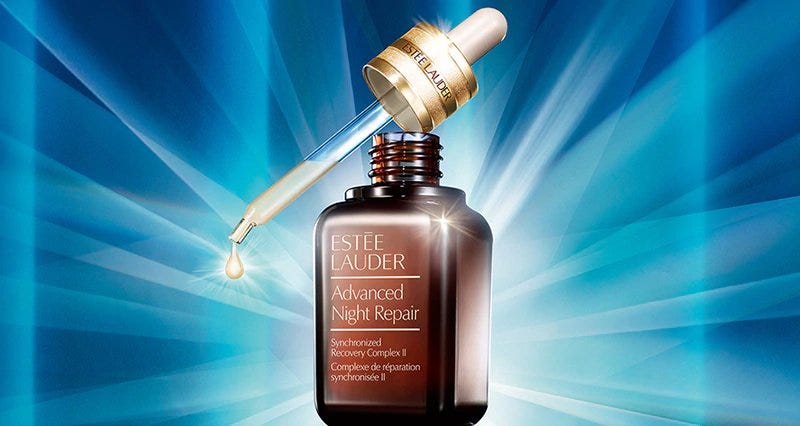 The Little Brown Bottle with Big Results
One of Estée's most enduring legacies came in the form of a "little brown bottle." In 1982, she launched Night Repair Cellular Recovery Complex, the first scientifically based serum to repair skin's appearance during the night. Now incorporating the latest innovations and with 25+ patents worldwide, Advanced Night Repair Synchronized Recovery Complex II helps promote the natural synchronization of skin's nighttime repair process to help skin look younger.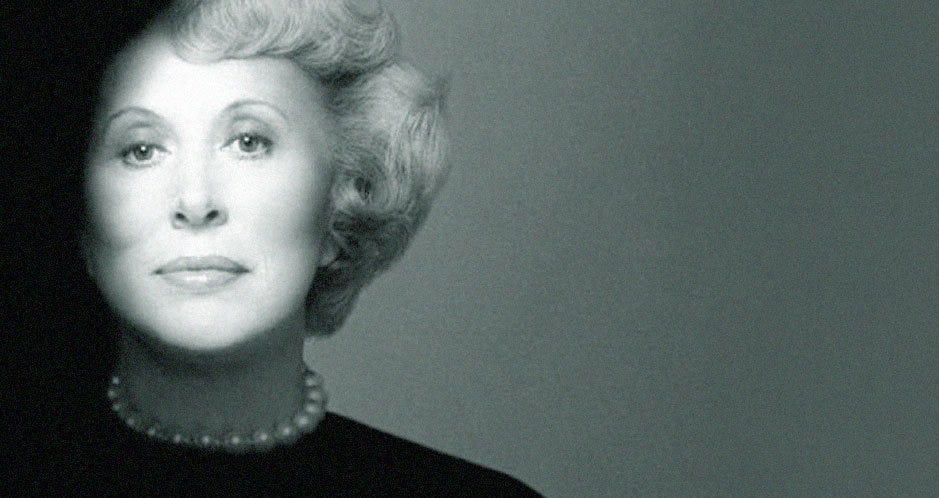 CHAPTER 5
A Lasting Legacy
In 2004, Estée passed away at the age of 97 leaving behind a family and a company to carry on her legacy.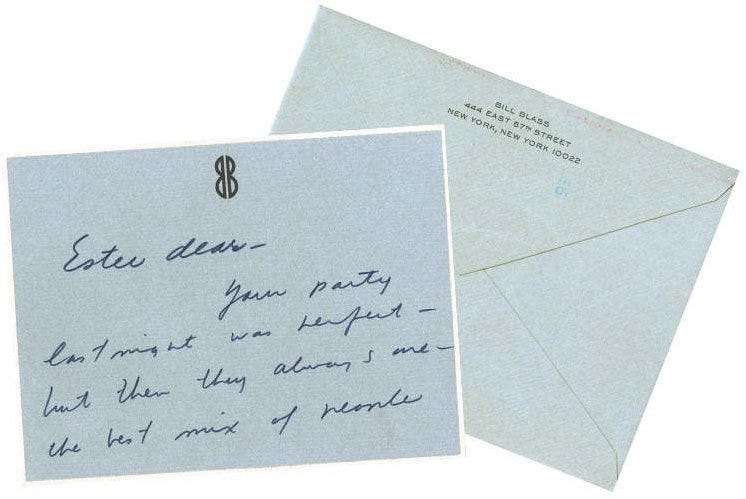 Front Row Regular
"I do love pretty clothes," Estée was the first to admit. Her love of couture created long-lasting relationships with designers such as Hubert de Givenchy, Valentino Garavani, and Bill Blass, and she attended their shows each season. There, she picked up style pointers, as well as beauty ideas. At an Emanuel Ungaro show, she was mesmerized by a model that wore "the most exquisite shade of ruby red shadow on her lids. It looked stunning," she'd recall. "I couldn't wait to get home to experiment until I found exactly that color for our own shadows."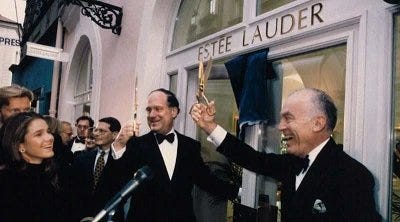 Passing the Baton
With numerous honors to her name—including Chevalier of the Legion of Honor from the French government—Estée formally retired in 1995. "My company is alive with a dauntless spirit of its own, and my children and grandchildren are here to cheer it on…I've passed them the baton of my conviction," she said as she stepped down. That same year, she stood side by side with her sons Leonard and Ronald at the New York Stock Exchange as the company went public. Naturally, every stock trader left with a free sample.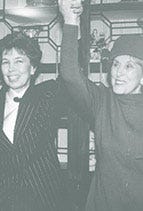 Always the Host
Estée was a "terrific host," says her granddaughter and Estée Lauder Style and Image Director Aerin Lauder, and she readily welcomed a coterie of international friends and dignitaries into her home and offices, always giving them a parting product gift.
In 1988, she notably hosted Russia's First Lady Raisa Gorbachev at the Estée Lauder headquarters in New York City, one of the most prominent female visitors to the U.S. at the time. To mark the occasion, she clasped Mrs. Gorbachev's hand in a victorious wave, a moment that was captured in a photograph that Estée treasured and kept in her office.